Chiropractor John Termini D.C.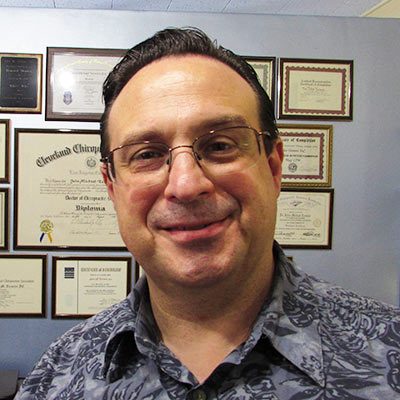 Dr. John Termini was born and grew up in the Los Angeles area. In 1988 he received his chiropractic degree from Cleveland Chiropractic College in Los Angeles, California. He started as an Associate in the Thousand Oaks practice of Dr. Paul Wondra. In 1992 set up practice in Northridge, CA. Shortly afterward married his sweetheart Annette. Then followed three wonderful daughters.
Dr. Termini has also completed extensive training in the care of adult, pediatric and pregnant patients. He is both Webster Technique certified (with the International Chiropractic Pediatric Association) and Advanced Proficiency Certification in Torque Release Technique by the Holder Research Institute.
Dr. Termini became interested in Chiropractic while attending a seminar that featured research conducted by Ronald Pero, Ph.D, chief of cancer prevention research at New York's Prevention Medicine Institute. Pero concluded that "chiropractic may optimize whatever genetic abilities you have". That motivated him to make a career in chiropractic. Dr. Termini was interested in Torque Release Technique (TRT) because it is a research based approach to chiropractic care. In 2001 he trained under Dr. Holder who is the first American to receive the Albert Schweitzer Prize in Medicine.
His focus to care is in creating an extraordinary healing experience with each office visit. Dr. Termini enjoys caring for the whole family and uses a variety of techniques to best suit the individual.
By John Termini
OFFICE HOURS
---
Monday
10:00am - 12:00pm
2:00pm - 6:30pm
---
Tuesday
2:00pm - 6:30pm
---
Wednesday
10:00am - 12:00pm
2:00pm - 6:30pm
---
Thursday
10:00am - 12:00pm
2:00pm - 6:30pm
---
Friday
10:00am - 12:00pm
---
Saturday
Closed